Party Poker Bonus Code
How To Get The Most Out Of Your Party Poker Bonus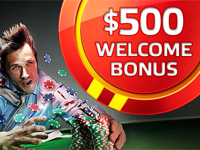 Party Poker offers 4 different bonus offers to be claimed with a Party Poker bonus code (please scroll down for the table with bonus codes) based upon the currency that you select for your deposit.  The options are:  U.S. Dollars, Canadian Dollars, Euros, or British Pounds.  Now, I've arranged for them to double your initial deposit up to an additional 500 units of whatever currency you deposit.  So if you know anything about currencies you know that 500 of one currency isn't the same amount of money as 500 of another.  So let's look at the different amounts, using U.S. dollars as the measuring point, and then seeing what the maximum amount converts to in the other three currencies, as of the time of writing:
U.S. dollars – $500 USD
Canadian dollars – $526 USD
Euros – $713 USD
British Pounds – $815 USD
So as you can see, the maximum bonus can be had by depositing in British Pounds.  So if you can deposit at least this much and plan on playing a fair bit at least, then just from this we can determine that British Pounds should be your bonus option of choice.  However, there's another element here, which is the way that Party Poker releases the bonuses for the different currencies, and it does vary among currencies.  So here's the way they do it:
U.S. and Canadian Dollars:  You must earn 6 times the bonus amount in Party Points
Euros:  You must earn 8 times the bonus amount in Party Points
British Pounds:  You must earn 9 times the bonus amount in Party Points
So how does this all cash out?  Well let's assume that you deposit the maximum amounts:
U.S. dollar:  you get one sixth of a U.S. dollar per point, which works out to 16.7 cents U.S.
Canadian dollar:  you get one sixth of a Canadian Dollar, which works out to 17.6 cents U.S.  So already we know that regardless of how much you deposit, depositing in Canadian dollars works out better.
What about Euros?  Well you get one eighth of a Euro, which works out to 17.8 cents U.S. per point.  So that's even better.
Finally, with British Pounds, you get one ninth of that per Party Poker point, and this works out to 18.1 cents U.S. per Party Poker point.  So we have a winner, and therefore regardless of how much or how little you put in, British Pounds will get you the most for your money, meaning that you'll not only accumulate money faster, you'll get more of it in the end as well.
So by doing this you take advantage of the way that Party Poker calculates these things, which is based upon their not wanting to use decimals in their requirements, so they set the requirements instead with whole numbers such as 6, 8, and 9, and given that we are sharp players, we are going to take advantage of the situation.  You don't see other review sites taking the time to do the math for you here by the way, and that gives you an idea of how much more concerned we are for your welfare and in particular, making sure we give you all the information you need and also provide expert advice to guide you along.
By the way, it doesn't matter which currency you choose as far as playing there goes, as everything is automatically converted back and forth, which gives you the freedom to play whatever tables you want regardless of the currency they use at it.  There is also no residency requirements, meaning you don't have to be from the U.K. to deposit in British Pounds, and in fact they take U.S. dollars even though U.S. players aren't even allowed to play there.  So everyone can use a Party Poker bonus code and should deposit in British Pounds.  You can deposit in another currency if you like but you won't be getting the most out of your bonus.
Click Here to Visit Party Poker Now
How The Party Poker Points Work
It used to be that Party Poker gave you points for tournament fees, but they now do not charge tournament fees at all, and they are the only poker site which doesn't, so you can't get them that way now.  However it's certainly better to play tournaments for free than paying and getting a piece of that back in bonus.  You only used to get a fraction back of what you paid in fees, which was certainly fine and a lot better than getting nothing.  Once your bonus ran out, you'd earn points and you could cash them in, but once again you'd get back only a percentage of what you paid, as they weren't running a charity site and have to make money.
However, they are running a charity site now believe it or not, at least if you play tournaments, as they charge absolutely nothing and make absolutely nothing from their tournaments now.  This by itself is a huge bonus and is a lot bigger deal than their bonus or any other poker site's bonus.  The money you will save here if you play tournaments is huge.  Just to give you an example, poker sites generally give back a quarter to a third of what you pay in rake and fees in bonus money.  This deal gives you it all back, and it has nothing to do with how much money you put in and isn't for a limited time.
The amount of money you save in this case is all of it.  So even if you just play tournaments, don't think that you're missing out on anything not being able to collect the welcome bonus if you don't play cash games at all.  You in fact get 3 to 4 times the welcome bonus by essentially getting all your tournament fees returned to you, right away in fact, with no requirements.  It's like an open bar where the mixed drinks are free but they are selling beer at half price, and the people getting the free drinks aren't going to complain they are not paying half price, as they are paying nothing of course.
So I don't want you thinking that you need to be playing cash games if that's not what you'd be playing anyway.  If anything, this fabulous and unprecedented deal on free tournaments should have you leaning more toward those.  However if you do want to play cash you will earn Party Points and end up getting a nice bonus for your efforts as you try out their site.  If you play tournaments well once again that involves even more money in your pocket for playing at Party and in either case signing up is something you definitely should do.
So, if you are going to use my Party Poker bonus code anyway, here's how you collect the Party Points.  Every hand that you are dealt cards in, whether or not you fold right away or put additional money in the pot, 2 Party Points are given out in total for every $1 in rake collected.  So they take the total amount of points awarded and divide it by the number of players, and each player gets that amount.  So if there are 6 players at the table who are dealt cards and the rake is $3, that's a total of 6 Party Points to be given out, and there's 6 players, so that's 1 Party Point each.
You don't have to worry about this stuff though, all you really need to do is play the way you normally play and get paid for playing.  Party Poker will track all this stuff for you automatically and pay out your bonus to you into your poker account as you earn it.  The more you play the quicker you earn the bonus is all you need to concern yourself with.  If you only play one table, that's fine, but if you play more then you will get paid faster.  It's also important to put in as much money as you can so you can get paid more bonus money in the end.
I do want to point out though that there are two ways that poker sites calculate your contribution to the rake.  The first way is actually taking the amount of money that you contribute to it, which means that if you are a better player and don't play wild and crazy, and fold a lot of hands pre-flop, then you aren't going to be contributing much to the rake on average, and therefore won't collect points very fast.
Party Poker on the other hand gives everyone credit for points equally, whether you put money in the pot or not.  Therefore the bad players will be contributing to the rake at a higher rate than the good players, as they always do, and this definitely is of benefit to the good players, as they end up collecting a lot of extra Party Points off the backs of the fish.  We already beat the fish out of their money if we're any good at all, and it's even better when we can get them to earn us extra Party Points and extra bonus money, which is exactly what happens at Party Poker.  And there are certainly a lot of fish at Party Poker which is in fact the best thing about the site.
How Party Poker Releases Your Bonus To You
Some poker bonus deals make you wait until you get enough points to earn the entire bonus before they give it to you, and some other sites do it in quarters or similar.  Once you have used your Party Poker bonus code, the sooner you get parts of your bonus the better though, as you not only are assured of getting more, you can start using it in your bankroll as soon as they put it in there for you.  I know of some poker sites where a lot of the players don't end up hitting the points requirement during the period that they have to do it, and they end up getting no bonus money at all.  I don't recommend these sites by the way as it's not fair to people.
However, Party Poker releases your bonus money in 1/10 increments.  So if for instance you deposit 100, and are eligible for 100 in bonus money, they release it to you every time you have hit the requirements for just 10.  Then when you get the required points for another 10, they give you that immediately, right up until the point where you collect the whole amount.  So that's a total of ten paydays and ten times that you have extra money in your account in order to use at the table.  This is an ideal setup in fact, although that's not surprising at all given how well Party Poker looks to take care of its players.  They also give you a total of 60 days to cash in on it all, unlike a lot of poker sites which only give you 30 days.
Click Here to Visit Party Poker Now
Your Party Poker Bonus Code
As you know, I strongly recommend that you go with British Pounds as far as the currency you should deposit at Party Poker.  That's up to you though and I will provide my expert opinion but I'm not going to tell you what to do.  Now most poker bonus deals have bonus codes that you have to enter in, like the Titan Poker bonus, however sometimes people make mistakes and end up screwing up and cheating themselves.  So what I've done is arranged for you to get the best bonus from Party Poker automatically, just by visiting them through our special link. I have compared my bonus with numerous of other bonuses, even to a bunch which can be claimed when using a Party Poker bonus code. Mine is paralleled with the best you can find. Then, depending on the currency you deposit in, you will get a 100% match in the currency of your choice, up to an additional 500 of whatever that currency is.  So no need to remember any codes or write anything down, just click on our link and you're on your way to getting paid.
By the way, in case you don't have any money to put in right now but are planning on doing so later, it's still wise to go through my link and visit Party Poker and register with them.  That way you don't have to come back to my site when you are ready, and even more importantly, you will lock in this deal for yourself.  Then, whenever you are ready, you just open Party Poker's software and deposit.  Of course, if you can deposit today, all the better.
In case you insist using a Party Poker bonus code, you're best off using one of the bonus codes I listed in the table below. I would sincerely appreciate it when you use my links or my dedicated Party Poker bonus code (PPBNET500) when you signup at Party Poker, but you are obviously free to use the other bonus codes officially distributed by Party Poker too.

03-10-2022
Party Poker Bonus Codes

| Party Poker Bonus Code | Match % | Max Bonus | Description |
| --- | --- | --- | --- |
| PPBNET500 | 100% | $500 | Our Party Poker first deposit bonus |
| PARTYBEST | Best | Best | Always the best Party Poker bonus available |
| PPOFFICIAL | 100% | $500 | Official distributed Party Poker bonus code |
Unfortunately Party Poker does not accept players from the US at this very moment. In case you are American, I suggest you become a ClubWPT member. ClubWPT is a subscription based online poker site, and therefor completely legal for players located in the United States. Best of all it's risk free, making it a perfect site for beginners. So, be sure to try out ClubWPT for free today!
In The End, It's All About Collecting Extra Dough
Since I know you want to play online poker, since you are here after all, either to read about the Party Poker bonus offer, or to find yourself a working Party Poker bonus code, the choice becomes to want to get paid to do it or not.  Party Poker is indeed an outstanding poker site and if I didn't think a great deal of it I wouldn't have put up this site explaining to people all the benefits of playing there.  However, I will leave it up to you to decide how much you like it, but what you do need to do, and what is a real no brainer when you think of it, is to just try it out and either get paid bonus money if you play cash games, or get all your tournament fees for free if you like tournaments, or even both.  I know you wil really like this poker site but why not check out for yourself how great this poker site is.  Just click on our link to them to get started getting paid.