Party Poker Deposit And Withdrawal Methods
Just Finding Out The Details Of What A Poker Site Offers Can Be Frustrating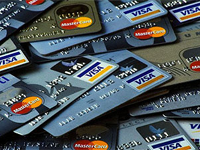 Whenever I check out a poker site, the first thing that I look at is how easy it is to move money in and out of the site. With most poker sites, I find it very frustrating to try to get the information I need.
Most sites have at least some deposit information, but most don't even spell it out in enough detail to know what you can and cannot use, and what the terms are. Some methods are only usable if you're from certain countries, and you're pretty much on your own as far as trying to figure that out.
When it comes to trying to find out what methods you can withdraw with, things are generally much worse. Information tends to be much sketchier with this, and you often have to hunt around a poker site to find anything out.
Some poker sites don't even tell you what you need to know anywhere on their site. There are some where I even sent off several emails to support before I found out that there was nothing at all I could use. Imagine that, looking to deposit at a poker site and there's no way you can get your money out. Good thing I checked.
Click Here to Visit Party Poker Now
Party Poker Is Quite The Opposite, Things Couldn't Be Easier
Party Poker has all the information you need about both depositing and withdrawing all on one convenient page. All you do is select your country from the drop down menu and it instantly displays all of the options for you, along with any details that you will need to know in order to make a proper decision between them.
There are also many options for you regardless of where you live, without cluttering things up with a bunch of obscure methods that no one uses. Party Poker offers all of the most convenient and popular options, so all players will have several great alternatives to choose among, according to their own personal preferences.
In order to discover everything that Party Poker has to offer, just go to the Party Poker home page, then go down the page and right above the black box at the bottom, you'll see a number of links in black. The deposit option link is to the far right.
So let's look at the options, keeping in mind that some are only available in certain countries, although once again Party Poker makes this all extremely easy for you as they only give you the ones that you can access.
Party Poker's Deposit And Withdrawal Options In A Nutshell
Credit Cards: Visa And Mastercard: If you live in a country where you are allowed to use credit cards to make a deposit, than you can use either Visa or Mastercard. Only Visa allows withdrawals to their card though, as Mastercard stopped taking them from gambling sites some time ago.
My Monedero: This is a virtual Mastercard so they only take deposits. Virtual credit cards are a very convenient way to deposit money though.
Debit Cards: Visa Electron/Switch/Maestro/Solo: There's nothing more convenient than depositing and withdrawing money straight from your bank account with your debit card. You can also withdraw with the Visa Electron. The other cards are Mastercard based so once again they are deposit only.
Entropay: This is a virtual Visa card which can be used to both make deposits and withdrawals to and from your Party Poker account. To make a withdrawal, you need to have made a deposit with it to Party within the last 6 months.
PaySafe Card: This is a deposit only option which can be purchased at various retail outlets around the world.
Ukash: This is a prepaid voucher which players can purchase at various locations around the world, which will allow you to deposit at Party Poker. All you need to do is enter in the voucher number and you're good to go.
Neteller: This is one of the more popular internet wallets which can be used to both deposit and withdraw. You need to first provide Neteller with your banking details, and confirm your account, before you start using it. Then, you can use it to make instant deposits at Party Poker. Withdrawals are speedy and they offer a debit card so you can spend your withdrawals without having to wait for the money to be transferred back to your bank account.
Moneybookers: Another popular internet wallet which works similar to Neteller, although you do need to have your funds sent to your bank before you can spend it. However, Moneybookers is available in more countries than Neteller.
Instadebit: An internet wallet very popular among Canadians. They provide top notch service and convenience. Used to be available only from Canada but has now branched out to serve other countries as well.
Bank Transfer/Bank Wire Transfer: You can use bank transfers to both deposit and withdraw. Party Poker doesn't charge for bank transferred deposits, although they do charge a small fee of 2 Euros for withdrawals using this method. Your bank may charge you a fee for both so it pays to check with them first.
Instant Banking: As long as your bank is among the participating institutions, you can transfer money right into Party Poker instantly for free. Deposit only.
Click And Buy: This is an internet account where players can easily make deposits from their Click And Buy account to Party Poker. Deposit only.
My Citadel: Internet wallet which is available for both deposits and withdrawals. Like most withdrawal options, you need to first make a deposit with the option before you can request a withdrawal to it.
Western Union: Make a deposit at one of over 150,000 Western Union locations in 185 countries. Deposit only.
Click2Pay: Another fairly popular internet wallet which allows you to both deposit and withdraw to and from your Party Poker account.
PayPal: The leader in online payment processing. Available worldwide, although they only accept poker transactions in select countries for some reason. This is an awesome service if you can use it where you live, and you can both deposit and withdrawal with it.
Use My Funds: A deposit only option available to players with bank accounts at participating banks in Canada and the U.K.
WebMoney: Internet wallet that offers a wide variety of funding options, including from your bank account, postal money orders, at ATMs, exchange offices, and more. So this is a good option for people who don't have a bank account and live in one of the countries that you can use it from. You can use this wallet for both deposits and withdrawals.
Ticket Premium: Prepaid vouchers which can be purchased at over 15,000 locations as well as online and can be used to deposit at Party Poker.
Ewire: A fast internet service which you can use to both deposit and withdraw with, and you can fund your ewire account with your credit card as well.
Electronic Transfer (Canada): Once you verify your Canadian bank account with Party, you can then send money to and from Party Poker for free.
Giropay (Germany): Giropay allows money to be transferred directly from your German bank account. This feature is deposit only.
Sofort Direct (Germany, Austria, and Belgium): This service allows you to make deposits with the bill payment feature of your German, Austrian, or Belgian Bank account. Deposit only.
ELV (Germany and Austria): This is a service which allows you to both deposit and withdraw to and from your German and Austrian bank account. It does require you to verify your account in the same way that the internet wallets do.
EPS Online (Austria): Players who have accounts at select Austrian banks can use this service. Deposit only.
iDeal (Netherlands): A deposit only option from select banks in the Netherlands. Visit iDealPoker.org for more information on funding your poker account with iDeal.
QIWI Virtual Visa (Russia): Deposit only option for Russians. Several options are available to fund this card.
Moneta (Russia): Russian internet wallet that offers a wide range of funding options. Available for both deposits and withdrawals.
DanKort (Denmank): Visa branded Danish credit and debit cards which can be used for deposit only at Party Poker.
Ewire (Sweden, Denmark, Norway): Scandinavian players can use this convenient option to move money in and out of their bank accounts.
POLi ((Australia): Australian players can use this service to instantly transfer from their bank account. Deposit only.
BPAY (Australia): Method of deposit using the bill payment service from your Australian bank account. Deposit only.
Mister Cash (Belgium): Residents of Belgium can use their Mister Cash card to make instant deposits at Party Poker.
Teleingreso (Spain): Spanish players can use this service to deposit at Party Poker. Deposits only.
Laser Card (Ireland): Laser Card can be used for both deposits and withdrawals if you have a bank account at a select Irish bank.
Albaqoos (Hungary): If you have an account at OTP Bank Nyrt, you can use Albaqoos to deposit at Party Poker.
So that's the list at the time of this writing, as time goes on they tend to add to this, so you will want to check the cashier information at Party Poker first. However this will give you a good idea of the many options available to you at Party Poker and let me tell you, this list really is second to none. Once again Party Poker gets 5 stars out of 5. See you at the tables!