PartyPoker.com Website Guide
The PartyPoker.com Home Page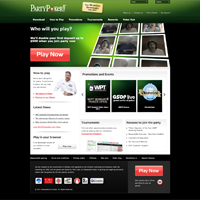 The first thing that I want to let you know here is that if you only remember one single piece of information from my entire website, it should be that you need to visit Party Poker's website for the first time through our special link that we have for you. This way you will ensure that you will get the top bonus that we have lined up for you. Once again, we have eliminated the need for you to remember or enter in a bonus code, and you can leave that field blank. You will automatically receive the top bonus just by going through our link.
Now, on to the home page, which is where you will arrive once you click on our links to Party Poker. If you look at the top of the page you will see two dropdown menus in the upper right. The first one is set to "poker." If you place your mouse cursor over it, you will see that you can get information on the other forms of betting that Party offers, which are Casino, Backgammon, Bingo, Bets, and Financial Trading. For now we're interested in Poker, so there's no need to change that right now, although I will go into these other forms of betting in other articles.
To the right of that, you will see the language menu. Since you are reading this review, I assume that you speak English fairly well, so there probably isn't any need to change this. However, there are a total of 20 different languages to choose from, and if you wish to make a change here, you can have PartyPoker.com displayed in the language of your choice.
Below these two dark green dropdown menus, you will see the website name displayed, which is of course PartyPoker.com, although you probably want to bookmark the site. You will see that they have had over 30 million downloads since 2001, which gives you an idea of how big this poker site is. To the right of that you will see several links in white, which are About Us, Contact Us, Tell-A-Friend, and My Account. I will be going into each of these later in the review.
Next are the larger white links below that, which list the main areas of the site. They are are Download, How To Play, Promotions, Tournaments, Rewards, and Poker Hub. The Download link is the first thing you want to click on when you arrive at this page, if you haven't downloaded the software yet of course. We'll be exploring the other links further down into this review.
Then there's a large box with a big Play Now button, which also is a link to downloading the software. You'll also see your bonus listed in this box, although they have it as doubling your deposit up to $500. You may already know though that we've arranged for them to double your initial deposit either in U.S. Dollars, Canadian Dollars, Euros, or British Pounds. So I've worked this all out for you elsewhere in the site and as it turns out, British Pounds is the best option here. It doesn't matter if you live in the U.K. or not, as anyone from anywhere in the world can deposit in this currency and collect even more bonus money.
Below that is a flash banner announcing some of the latest promotions that they have running for you at Party Poker. Depending on what's going on, you will see an assortment of several promotions designed to make playing at Party Poker even more exciting. I will tell you though that the normal game play is plenty exciting enough and this really is on top of all the regular fun here. Simply hold your mouse cursor over each to discover more, and you can click on them as well should you wish to learn even more.
Below that they list several reasons to play at Party Poker, which are the fact that they have recently won Poker Operator of the Year, that they are certified by GamCare as a responsible operator, that they are licensed and regulated, and that they have a comprehensive range of payment methods. They are being very modest here as these are but a few among very many great reasons to play at Party Poker.
Below that, continuing down the left hand side of the page, is a link where you can play without downloading. While everyone should download the software for play at home, you may also wish to play on computers where due to security reasons you are not permitted to download software, like at work or at the library. So this link will let you play through a browser based version. This can come in handy at times as you might imagine.
On the right hand side of the main part of the home page is a link to Party Poker's tournament schedule. Below that is another link to the "how to play" section, and finally you will see a link to Party Poker's blog. I'll be walking you through all three of these sections soon.
Below all this, close to the bottom, is some legal based links, which include links to sections on responsible gaming, Party Poker's Terms and Conditions, their privacy policy, a link for affiliates, their site map, another link to their blog, a link to PartyPoker.tv, and a link to their deposit options.
So with the home page out of the way, let's look in more detail at the various sections of the site:
Click Here to Visit Party Poker Now
About Us
It only makes sense to check out who a poker site is and what they are all about before looking to deposit your money with them. I can tell you though that Party Poker's reputation and integrity is second to none, and in fact no other online gaming company really comes close. Here, they tell you more about who they are, they go over their strict licensing requirements, their commitment to game fairness, their state of the art security, including their vigilance against fraud and collusion, their easy and convenient deposit and withdrawal options, and their award winning customer care and rewards program.
Contact Us
This is Party Poker's support center, where support options can be accessed as well as any service announcements that Party Poker may make from time to time. As far as contacting Party Poker, links to the three main methods are listed, which are email, live chat, and phone support. With the latter, there is a drop down menu where you can select your country in order to receive the designated toll free number. There is also a list of links to popular support requests which may provide the information that you are seeking right there.
Tell-A-Friend
Party Poker features an exciting tell a friend program, and this link will lead you to the details that you will need to know in order to take advantage of this deal. All you do is provide the names and email addresses of the people that you know that you think might be interested in joining the party at Party Poker, and they do the rest. If your friend ends up playing at Party, both you and your friend will become eligible to receive an extra $100. Every time your friends collect 60 Party Points, you get $10, do all have to do is give them the names of the people that you know and then just watch the money roll in.
My Account
This is where Party Poker members log in to their personal and private area of the PartyPoker.com website, where they can view all of their personal details. This is where you can keep track of your funds, bonuses, Party Points, your standings in tournaments and competitions, and more. They also let you know that you can use your Party account to play all of the different games they offer, including casino, sports betting, backgammon, bingo, and even financial bets.
How To Play
You might think that this is just a section for raw beginners, teaching things like hand rankings and such, but this isn't the case at all. In fact there are three main sections here, which are New To The Game, Raise Your Game, and Master The Game. Therefore, players of all skill levels will find plenty of material which is designed to make you an even better player.
Depending on where your game is at, you simply click on the level of instruction of your choice, where you'll find several good articles and other tools. The landing page for Party Poker's poker school also has easy links for newer players to "starting hands" and "rank of hands," so you can hit the ground running.
There are also links to various poker variations that are offered by Party Poker, such as Hold'em, Omaha, Omaha Hi/Lo, 7 Card Stud, and 7 Card Stud Hi/Lo, so you can familiarize yourself with games you may not know a lot about. There's also some quick links to lessons, organized by level, as well as some featured articles of interest at the bottom of the page.
The material presented is in both text and video format, and there is quite a bit of material here compared to other poker sites which generally only provide you with a few articles and usually are of a very introductory nature. Those interested in finding out more about this section should visit my full review of Party Poker's poker school.
Promotions
Here you'll find a listing of all of the major promotions that are currently running at Party Poker. Some of these promotions are ongoing, and some run for a limited time, so you want to check this page often to stay up to date on everything that's going on at Party Poker. There are also links to recent winners, and also a link to the Party Points program which contains detailed information about how their point system works. Once there, there is an additional section called "how to earn" which players should familiarize themselves with, as well as a link to the Party Poker store where you can redeem your points for some great stuff.
Tournaments
This page contains links to some of the various types of tournaments that run at Party Poker, including Sit &Go Single Table, Multi-Table Tournaments, Shootouts, Heads Up, Shootout Satellites, and Bounty Tournaments. Players who aren't too familiar with these various tournament forms would be well advised to check this all out. There is also links to such things as tournament basics, their tournament schedule, and Party Poker's tournament rules.
Rewards
Party Poker's rewards program is much bigger and much better than it ever has been in all their years of existence, and this page outlines some of its features. They haven't just dramatically increased their level of rewards to their players, they also have improved the clarity of the system. Your points are updated every time you leave a table and can be easily viewed right from your personal web page that they create and update for you. Points can also be earned by playing their selection of other games other than poker. There is also a link to their rake structure, as well as full details about their various VIP levels and payout levels.
Poker Hub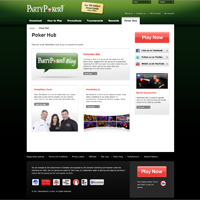 Here you'll find links to the Party Poker blog, information on the Party Poker Team, and a link to PartyPoker.tv. The blog is a great way to stay in touch with what's going on at Party Poker as well as the poker world in general, and there is a lot of information about major poker tournaments and top poker players if that is of interest to you. You can also get information on the members of Team Party Poker, which include Mike Sexton, Tony G., Kara Scott, and Dragan Galic. There's even a link where you can request sponsorship from Party Poker and look to join their team. PartyPoker.tv contains an extensive video library and if you enjoy watching poker on TV you will find lots of entertaining material here.
The Bottom Link Bar
There are a number of different links here, and some provide a quicker way to access various parts of the site, such as links to the poker blog and PartyPoker.tv, as well as links to such things as their terms and conditions and privacy policy. Of note among these is a link to their deposit options, and this is something that should be of great interest to players. It's laid out very well and the best thing about it is that you get to choose your country of residence from the drop down menu and then it displays all the options that are available to you, as well as details about each option.
Summing Up PartyPoker.com
As you can see, PartyPoker.com is very well organized and users should have no problem at all finding exactly what they want without having to browse the whole site. As is the case with everything to do with Party Poker, the website is extremely well done and is top notch all the way.