Party Poker Promotions
Party Poker Is The King Of Poker Promotions
There's always a lot going on at Party Poker in terms of their promotions, and there are in fact too many to list here.  They also add new ones all the time.  So what I'm going to focus on in this article is the regular ones, to give you a taste of what they have in store for you.  Once you sign up you'll be able to see the full selection for yourself, but always remember to check their promotions page regularly once you are a member to make sure you don't miss out on anything.  However, you can rest assured that Party Poker is way ahead of the competition just counting their regular ongoing promotions, which I'll now cover for you.
Click Here to Visit Party Poker Now
Let's Start With Your Welcome Bonus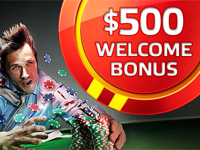 Party Poker will match your initial deposit, up to an additional 500 units of the currency of your choice.  So you can deposit in U.S. Dollars, Canadian Dollars, Euros, or British Pounds.  Now for starters, British Pounds are worth more, so if you can deposit more than 500 units of another currency, you can collect more by depositing in British Pounds.  By the way, it doesn't matter what country you live in, you can pick whatever currency you want.  If you're depositing less than 500 of a currency, you're still better off using British Pounds, as you will be able to cash in on your bonus a little quicker.
Since Party Poker is paying you to try them out, you do have to play some poker to collect the bonus money they have for you, but they have made things easy.  They pay out the bonus to you in ten installments, and each time you earn a tenth of it, this money goes right into your account automatically.  By the way, there's no need for a bonus code here, just make sure that you go through our link and you'll get it.
You can read in-depth about the welcome bonus at Party Poker on the dedicated page.
First Depositors Also Get Free Tickets To Weekly $1500 Tournaments
For the first 60 days after you've made your first deposit at Party Poker, you are eligible to enter their weekly $1500 freerolls.  Since these tournaments are limited to new depositors only, this makes these freerolls much more valuable to you than the regular ones, as the amount of players that are allowed to enter them are far fewer than you normally see.  So what this means to you is that there are a whole lot fewer people to split the booty with, and if you're at least a decent player, you've got an even better chance for a nice payday.  Since you are eligible for 60 days, that means that you can enter up to nine of these in total.
Click Here to Visit Party Poker Now
Party Poker Offers Over $100,000 Of Other Freerolls Every Month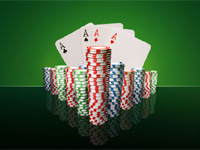 To add to the excitement and profitability of their freerolls, Party Poker runs 14 regional freerolls every day.  Entrants to each regional tournament are limited to residents of specific countries, which are clearly listed for you.  All areas of the world are accounted for and everyone is eligible to enter several a day regardless of where you live.  They not only award cash prizes in these tournaments, you can also win free seats at bigger tournaments as well, which normally require you to pay an entry fee to participate in.  With less people in these tournaments, your chances of winning a good prize are definitely enhanced.
Party also offers many free for all freerolls called World Domination tournaments where anyone can enter.  The prizes are larger with these freerolls to make up for the fact that the fields are larger.  There are also special freeroll tournaments where you gain entry by using some of your Party Points, which is a good way to look to leverage them into getting paid out much more than the points are worth.  All of Party Poker's free tournaments give new meaning to the word fishy by the way, which makes them even more enticing and profitable.
Party Poker Rewards Program
Each time you are dealt cards in a raked hand, you collect Party Points, which can then be redeemed several ways.  First, I want to point out that Party Poker rewards you with points in a hand regardless of whether you have contributed to the pot or not, which is a far better way of counting things.  This way the loose players at the table end up earning you points as well as the ones that you earn from your own pot contributions.  This all adds up to more points for you.
You can spend your points on reduced cost merchandise at the Party Poker store, and they have a huge selection of items that you can purchase with your Party Points.  You can also trade them into cash, which puts the money right into your poker account with them.  You then can use this extra cash to further build your bankroll, or you can even put it right into your pocket if you wish.  In addition, you an also use them to be eligible to collect bonus money, which you then cash in as you play some more.  The points that you use toward cashing in this bonus money can then be recycled and used again to buy some more bonus money.  So this is a fabulous way to really rack up the cash.
Also, the more you play, the more you climb up the Party Poker VIP Ladder.  Everyone starts out at the Bronze Level, and then as you accumulate Party Points, you move up to higher levels, which include the Silver Level, the Gold Level, the Palladium Level, and finally the Palladium Elite level.  Each higher level allows you to earn Party Points faster, as well as being eligible for higher and higher amounts of cash and bonus money.  At Party Poker, they truly take care of their players, and this is easily the most generous player reward program around.
Click Here to Visit Party Poker Now
There's Always Lots Of Big Tournaments Running At Party Poker
Party Poker has a regular schedule of big time tournament events running.  For openers, they run their $200,000 guaranteed tournament every Sunday.  In addition, they have a $30,000 guaranteed tournament every Monday through Thursday.  There is also a weekly $100,000 guaranteed event which runs Sundays as well, and $40,000 guaranteed tournaments every Friday and Saturday, in addition to several other events with prize pools guaranteed to be $10,000 or more.
So if playing for a huge amount of cash in a tournament excites you, which it should, then Party Poker is the place to be playing at.  Perhaps you also get excited at the prospect of playing in a World Poker Tour event.  You may not know though that the World Poker Tour itself is now part of Party Poker, as Party bought the tour a while back.  So needless to say, Party Poker is the place to be if you've ever imagined yourself playing at one of their big Tour events, and perhaps seeing yourself playing on T.V. and going against the world's best players for millions in prize money.
You can buy into any of these events directly, however Party Poker realizes that some players may not be able to afford to spend this much on a tournament, so they have a multitude of qualifying tournaments with much more modest entry fees, from completely free on up.  This way everyone can take a shot at any of their big events.
Party Poker's Weekly $5000 Bankroll Booster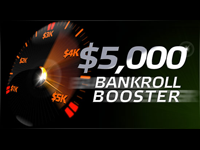 Every Sunday, Party Poker runs it's weekly $5000 bankroll booster as another way to thank its players for their loyalty in playing at their poker room.  All you have to do in order to get a free seat to it is to earn 5 Party Points or more in the week preceding the tournament.  By the way, if you've played at all during the week, you will have no problem hitting this requirement.  You can also get started right away in the next one right after you make your first deposit by entering in the code "BOOSTER" when you deposit.  Then, you simply register for the next one that's scheduled, and after that you just have to play a little each week to keep earning free seats to the event.  Once you are entered, you will compete for your share of the $5000.
Click Here to Visit Party Poker Now
Party Poker's Tournament Leader Boards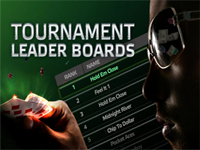 Regardless of whether you prefer Sit N' Go or regular tournaments, Party Poker has a total of $40,000 to give away each month to its tournament players with their Tournament Leader Boards promotion.  This not only gives you the chance to win some nice extra loot, it also gives you the opportunity to pit your tournament skills against other players at Party Poker.  You get rated every time you play a tournament, and the better you play, and the more you play, the better you get ranked.
So this adds even more to the fun of tournaments and also gives you the chance to show the world what you've got.  You can win both cash prizes and entries into tournaments, including a special freeroll for the best players, as well as free entries into the Sunday $200,000 guaranteed tournaments, a value of $215.
You can read in-depth about the tournaments at Party Poker on the dedicated page.
Party Poker's Refer A Friend Program
Once you've tried Party Poker and have experienced for yourself why this is by far the best place to play poker in the world, you owe it to your friends to share this good news with them.  So not only will they appreciate this advice, if you refer them and just give their names and email addresses to Party, both you and your friends become eligible to receive an extra hundred bucks.  So it's an extra hundred bucks for them, and an extra hundred per friend for you.
So if you are looking to build your bankroll, there really isn't a better way to do it than this.  We all know a lot of people online and just imagine the pile of extra money you could get just from this deal alone.  Once your referred friends sign up at Party, each time they earn 60 Party Points, both you and the friend get $10 put right into your account, to a maximum of an extra $100.  This is real cash in your account, not bonus money that you have to cash in by playing, as your friends have already done the playing and the cashing in for you.  This is a great deal for sure.
Click Here to Visit Party Poker Now
Other Regular Promotions At Party Poker
Party Poker also runs their 50 seat frenzy, a tournament where they give away a total of 50 free entries into their $200,000 guaranteed Sunday tournament.  You can buy in directly for $15, win a seat to it through one of their $1 and $2 daily qualifying tournaments, or even win a free seat to it at one of the regional freerolls.
Party Poker also runs what is probably the best Bad Beat Jackpot around.  The standard is set lower than other sites, at four eights or better, which makes for a lot better action.  The best thing by far about their bad beat jackpot tables here at Party is that you have to be playing at specifically designated Bad Beat tables to win.
So what happens is that these tables attract the biggest fish on the site who are long on hope but short on poker skills.  So this is as close as you'll ever see to the no fold'em hold'em that you used to see at the dawn of the internet era, and these tables present the best opportunities that you'll ever see to make money from fish.
The Steps Challenge is a great way to add more fun to Sit N' Go's and also allows players to get a lot more fun and mileage out of their entry fees.  This is particularly good for smaller bankrolled players who are looking to shoot for a lot bigger money than they would normally be eligible for with their smaller size of buy-ins.
There are six steps, and you can buy in at any of them.  Then you either move up, stay on the same level, move down, or move out depending on how you do at each tournament.  Once you work your way up to the top step, then you become eligible to win a very nice amount of cash.
Conclusion
Party Poker is always looking to ensure that they make their poker site as exciting and lucrative as they can, and add new promotions all the time.  As I've said, these are just the main ones, and once you get there, they have even more in store for you.  Click on our link to start your journey to the best poker site on the planet.