Team Party Poker
Party Poker Currently Features Four Top Pros On Their Team
While many poker sites have hired poker professionals as ambassadors of their sites, being selected as a member of Team Party Poker is a special honor and privilege, given the prestige associated with Party Poker itself. In fact there are currently only four players in the world who have been asked to step up and represent Party Poker, although they are looking to add more at some point in the future. They do take applications all the time so maybe one day you will be accomplished enough to be selected as well, and enjoy the prestige that comes with this title. So let's meet the current members of the team:
Click Here to Visit Party Poker Now
Mike Sexton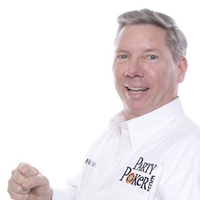 Mike Sexton is perhaps the most recognizable face in the entire world of poker. As the television host of the World Poker Tour, which by the way is owned by Party Poker, he needs no introduction, and has not only provided countless hours of top quality poker commentary over the years, but is credited for introducing millions of viewers to the game.
Many people don't realize that he is also a very accomplished poker player in his own right, and in fact is a member of the WSOP Hall Of Fame. He's also a former winner of the WSOP Tournament of Champions, and has amassed over $3.5 million in lifetime winnings in live tournament play, over a career that has spanned more than 30 years.
His association with Party Poker goes right back to the start of its existence in 1999, and in fact Mike is credited with personally coming up with the name of the site, Party Poker. Since then he's been the site's lead spokesperson and has worked hard to provide his knowledge, experience, and leadership to them ever since.
Tony G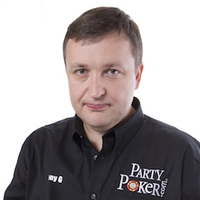 Poker wasn't Tony G's first game. As a child, instead of playing cards, he became fascinated with Rubix Cubes, and went on to become Lithuanian Champion at the age of 10. So this gives you an idea of his intellectual prowess, as well as his patience, which he eventually focused upon the game of poker once he became old enough to be allowed to play in the casinos at age 18.
Despite never having played the game before, he stuck with the game and grew his bankroll from a few dollars to a few hundred thousand dollars. Soon, the casinos in Australia, where his family had moved to a few years earlier, were no longer big enough for him, and he set out for Las Vegas to look to make his mark in the big time.
As the years passed, Tony continued to improve, and made his first big impact on the world poker scene in 2003 when he finished second at a World Series of Poker event in Paris. He has continued with this success since, eventually being selected to the Party Poker Team.
Tony is known as one of the most aggressive players on tour, and is also known for his frequent outbursts at the table, although away from the table he is one of the nicest people you will meet. He is also well known for donating a large portion of his winnings to charity.
Kara Scott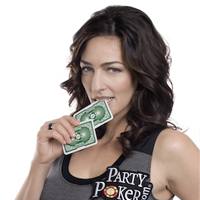 Kara came to the poker scene from the world of broadcasting, but has since become a serious poker player herself and has had several top finishes in major tournaments. Among other things, she is a martial artist and got her start on television hosting a martial arts program on British TV.
She also has found success as a producer, not only in television but in film has well, with "Sucker Punch," a martial arts film which she both produced and acted in. She's also worked on many gambling related programs, and also writes for several poker magazines. Among her current projects away from the poker table, she is a reporter for ESPN's coverage of the World Series Of Poker, and also is the current hostess of the World Poker Tour.
Kara has also made a name for herself at the poker table as well, being the only woman to finish in the money in the main event of the WSOP two years in a row, in 2008 and 2009. Kara is obviously a woman of many talents and Party Poker is delighted to have her on their team.
Dragan Galic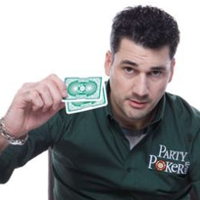 While the other three members had achieved significant fame prior to being selected as Party Poker team members, Dragan's promotion came from within, as a Palladium Elite player right here at Party. In addition to his play at Party Poker, he also has worked his way up to being an accomplished live tournament poker player in Europe, and his success there definitely played a role in his being selected for this honor.
Dragan started playing the game of poker for fun with friends, which then led to his playing small stakes real money poker. As he moved up the levels, he eventually quit his job as an engineer at BMW to play poker full time, and hasn't looked back since.
Since he started playing professionally in 2006, he's already amassed almost a million dollars in live tournament winnings, to go along with what he's won online at Party Poker. Almost half of this came from winning a European Poker Tour event, where he became the first player on the tour ever to lead a tournament from start to finish.
Dragan is testimony to what can be achieved by everyday players at Party Poker, where he still plays frequently under his own name. He advises players who want to improve to seek out the best players to play against, and he certainly is among them. If you are dedicated enough, maybe you can join him and the other members of the team and enjoy all the benefits this brings.